My original goal when I started poking around Apple's EFI implementation was to find a way to reset a MacBook's firmware password. My preliminary research found references to a "magical" SCBO file that could be loaded onto a USB flash drive and booted to remove the password. The normal process workflow is to first contact Apple support. Since I don't have the original sales receipt of this specific Mac, I assume this option isn't possible, since anyone with a stolen Mac could get the password reset. Things got more interesting when I found a website that allegedly sold the SCBO files – just send them the necessary hash (more on this later), pay  USD100, and get a working SCBO file in return. There are videos (in Portuguese but you can watch the whole process) of people claiming this works, and even some claims about an universal SCBO that unlocks multiple Macs.
Since there was (stil holds true) virtually no information about the SCBO contents, this aroused my curiosity but I never followed up until now. Upon my return from SyScan360 Singapore, I needed a new research direction to kickstart my brain back into work, and this fit the bill.
The core question I wanted to answer was if it was really possible for someone to build a SCBO file key generator. If this were true, it would imply that Apple's EFI contains a significant vulnerability. Understanding how SCBO files work in the first place was also intriguing. So let's start another EFI reversing engineering adventure…
At the time I could only find a single SCBO file on the Internet, which is bad (impossible to visualise differences between files) but better than no file at all. The sample file can be downloaded here SCBO_original.zip.
(SHA256(SCBO_original)= fad3ea1c8ffa710c243957cc834ac1427af0ea19503d9fc7839626f6cac4398b)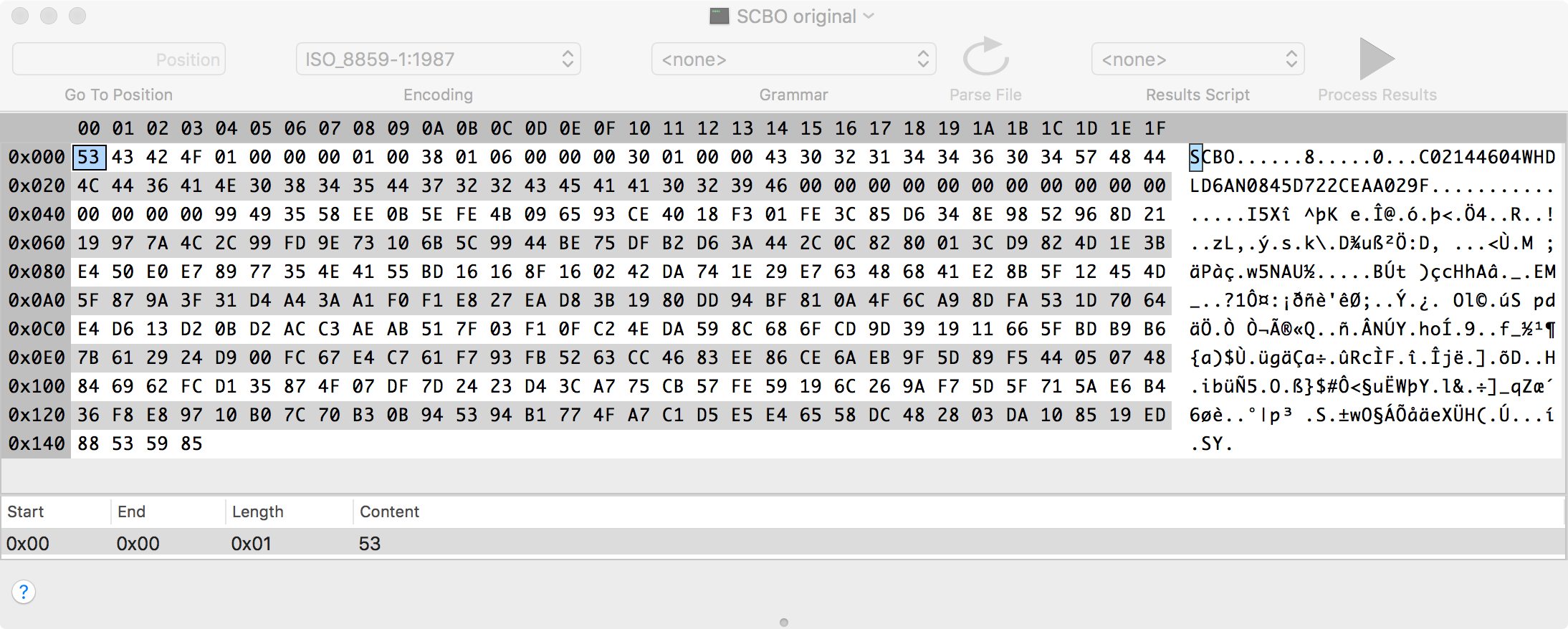 [Picture 1]
This picture shows us the full contents of the sample file. The 'SCBO' string is clearly visible in the first four bytes, which is a magic number (0x4F424353). A couple of bytes later and we see another string. It appears to be some kind of serial number. This information can be verified because part of this string can be found in the motherboard of each Mac (my sample is only composed of MacBooks but I guess iMacs and others will contain the same information). The rest of the string and binary data that follows are unknown for now. The total file length is 324 bytes.
How are the SCBO files generated?
Continue reading →